Blue Valley Nursing Home Amenities | Nebraska Nursing Care Homes
Blue Valley Nursing Home strives to offer quality care in a home-like setting. We offer many of the same amenities that our residents would find in their own homes, such as:
Home-style Meals Everyday, Plus Snacks
WanderGuard Safety System
New Whirlpool Spa Rooms
Free Cable TV and Wireless Internet
Computer with a Large Print Keyboard for Resident's Use
Daily Housekeeping and Laundry Services
Daily Activities
Beautician/Barber Services
On-site Dentist
TB Testing, Flu Shots & Pneumonia Shots Included
Personal Items (Ask your Social Services Director for a Complete List)
In-Town Transportation to Medial Appointments
Oxygen & Concentrators Included
Supplements & Diabetic Supplies Included
Bible Study and Chapel Services for All Denominations
Sun Room with Secured Outside Courtyard Area
Sitting Areas with Televisions
Aviary and Fish Tank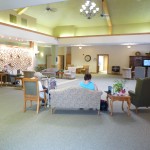 To schedule a tour of Blue Valley Nursing Home, please call 402-768-3900 or take a virtual tour. We also have rooms available for private parties and gatherings, please call for information or to book a space.