About Blue Valley Lutheran Homes | Nebraska Nursing Care Homes
Come Visit Nebraska's Premiere Nursing  Homes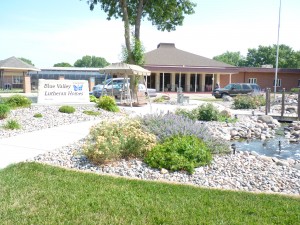 "Relax…you're home," is more than just a slogan at Blue Valley Lutheran Homes. Since 1948, the premiere faith-based, senior living facility, has served south-central Nebraska with quality nursing care for the elderly and mentally disabled.  Blue Valley is a non-profit, Christian-centered organization with a mission to care for the elderly and mentally challenged with dignity and respect through Christian love and compassion.
Blue Valley Lutheran Homes offers nursing care for the elderly, mentally disabled and those suffering from Alzheimer's and dementia. We also offer assisted living, long-term care, respite care and rehabilitation services. All right here in Nebraska, it is our Blue Valley Circle of Care Promise.
We believe in treating your family like our own. From our beautiful grounds to our caring staff, our facilities are designed to feel like home. We offer all denomination worship services, bible study opportunities, and daily activities that cater to our resident's interests. We provide the best quality care thanks to our trained staff and volunteers. Donations from individuals and local businesses enhance the home-like atmosphere for each of our buildings.
We know that you will love it here and we welcome the opportunity to show you everything Blue Valley Lutheran Homes has to offer. To schedule a tour, please call 402-768-3900.